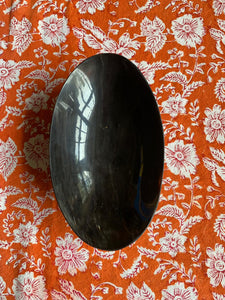 This beautiful buffalo horn bowl is made by Indian artisan, it can be used as snack dish,soap dishes ,home decoration ,office decor or a gift for your loved ones.
Every bowl has a unique color/pattern depend on the basic buffalo horn material
These product was made from natural buffalo horn, crafted and polished using traditional equipment
de from genuine bovine horns each piece is unique. The insides of these bowls are polished smooth while the outsides are only lightly polished to keep their beautiful natural finish underneath.
Perfect for eating out of during re-enactment events, or use in a myriad of ways in daily life, each one is a piece of art you will enjoy using.