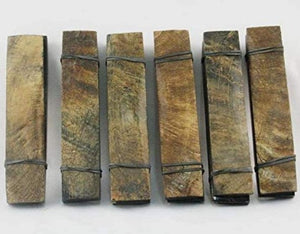 Zigged Buffalo Horn Knife Handle Material with Bark

6" inch Horn Scales Handle Set Pair Handles Material for Knife Making Blanks Blades Knives

Length: 6" inches approx. Width: 1" inches approx, Thickness: 1 1/4" inch approx in center (tapers toward edges) radius

No Fillings

Color is consistent all the way through

Perfect for making beautiful custom knives. You will receive two pieces i.e a pair of the scales.Every set of scales WILL differ in pattern, texture, color and shape. Each is cut from naturally occurring horn/bone.