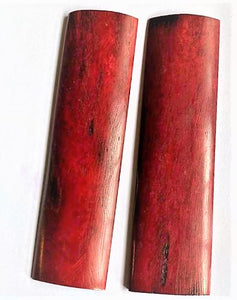 These camel bone knife handle scales have been dyed all through. Sold as a pair, each is 4-1/2" x 1-1/4" with a convex height that scales from approximately 1/16" at the edge to 3/16" in the middle. As a natural product, each pair of scales has unique grain, color, and shape. No two pairs are exactly the same.
NOTE: This photo is a representative example; your scales will be dyed the same color but will not look exactly as pictured because every pair of scales we sell is an one of a kind item.

4-1/2" inch White Rounded Camel Bone Scales Handle Set Pair Handles Material for Knife Making Blanks Blades Knives

Approximate Length: 4-1/2", Approximate Width: 1-1/4", Approximate Thickness: 3/8 inch in center (tapers toward the edges)

You will receive a set of 2 pieces.Every set of scales WILL differ in pattern, texture, color and shape. Each is cut from naturally occurring horn/bone.